Chiffon Sarees
Chiffon Sarees have always been a symbol of grace and elegance in the world of fashion. Known for their lightweight and sheer fabric, chiffon sarees effortlessly drape around the body, accentuating the feminine form. Whether it's a formal event or a casual gathering, chiffon sarees never fail to make a stunning statement. In this article, we will explore five exquisite chiffon sarees that are perfect for any occasion. From vibrant floral prints to delicate lace embellishments, each saree is a masterpiece in its own right. Discover the beauty of chiffon sarees and embrace the timeless elegance they offer.
1. Spicy Orange Floral Printed Chiffon Saree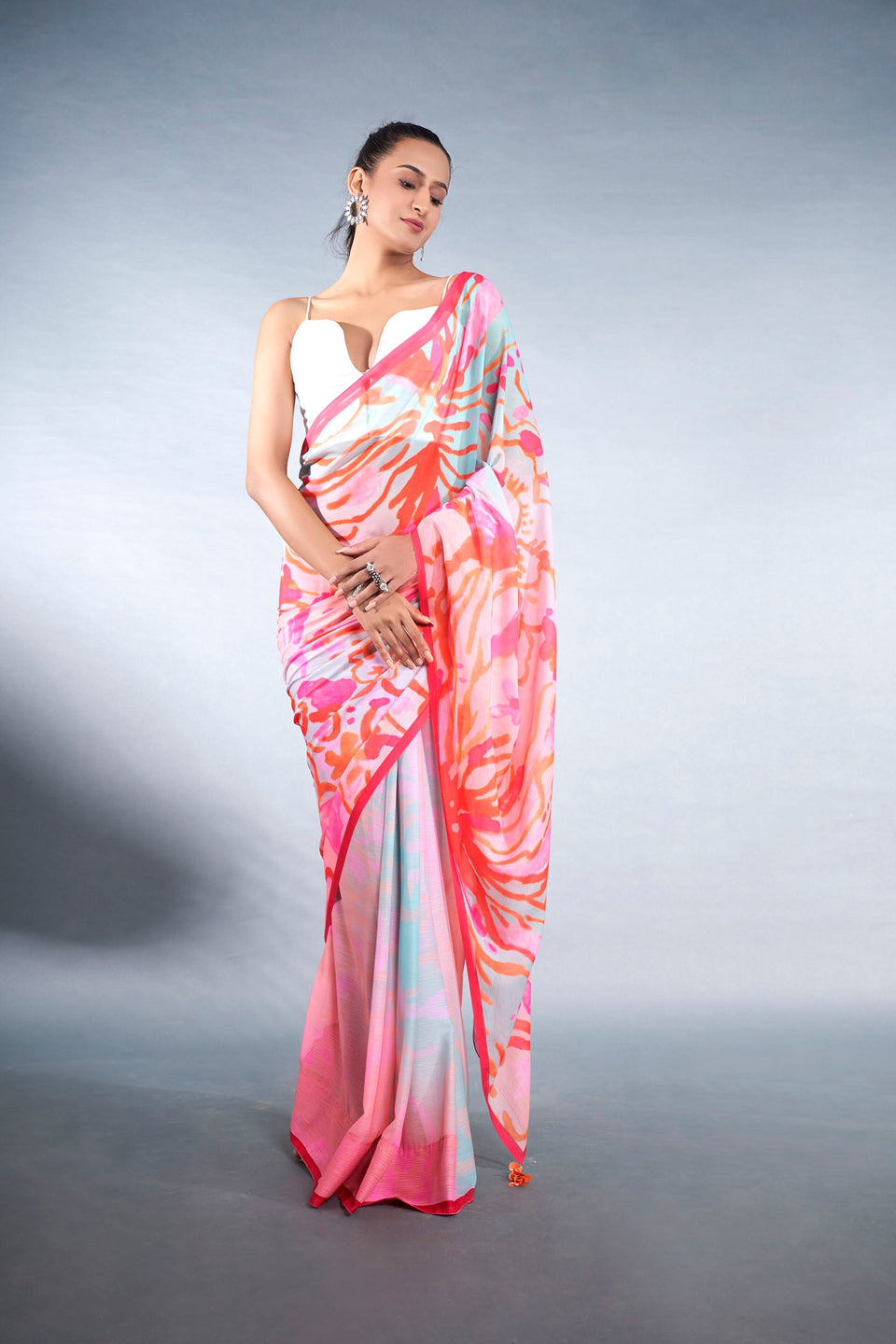 This Spicy Orange Chiffon Saree exudes a vibrant charm that is perfect for festive occasions. Adorned with floral prints, it adds a touch of nature's beauty to your ensemble. The saree is complemented by a latkan, a traditional Indian accessory that adds a playful and decorative element to the saree's pallu. The combination of the fiery orange hue, delicate floral patterns, and the latkan creates a stunning visual impact that will turn heads wherever you go.
2. Amber Yellow Floral Printed Chiffon Saree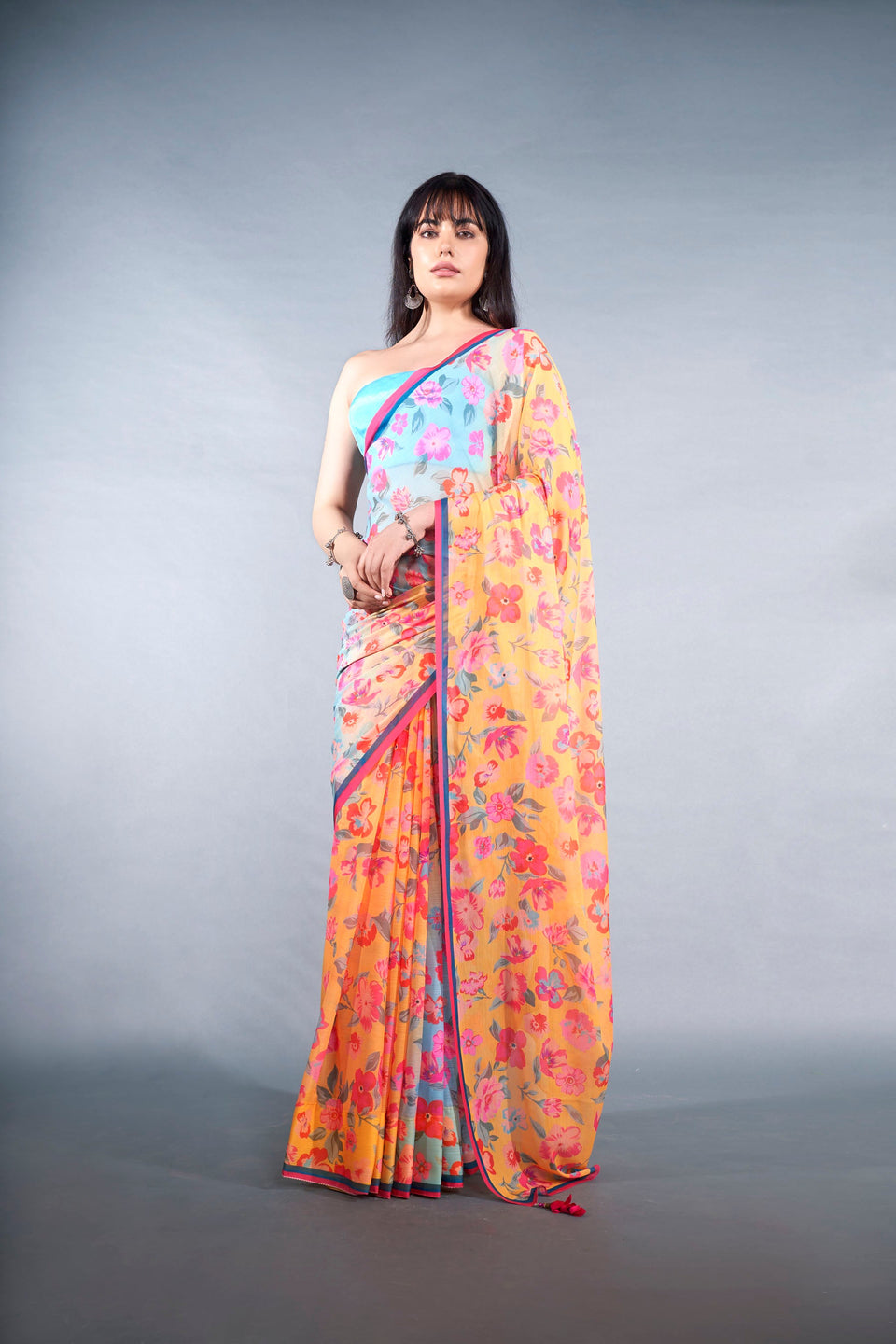 The Amber Yellow Chiffon Saree is a classic piece that radiates warmth and sophistication. With its floral prints and elegant drape, it is a versatile choice for both daytime and evening events. The saree features a latkan that adds a touch of tradition and elevates the overall look. The soft and subtle yellow hue of the saree exudes grace and beauty, making it a must-have in every saree connoisseur's collection.
3. Rose Cloud Floral Printed Chiffon Saree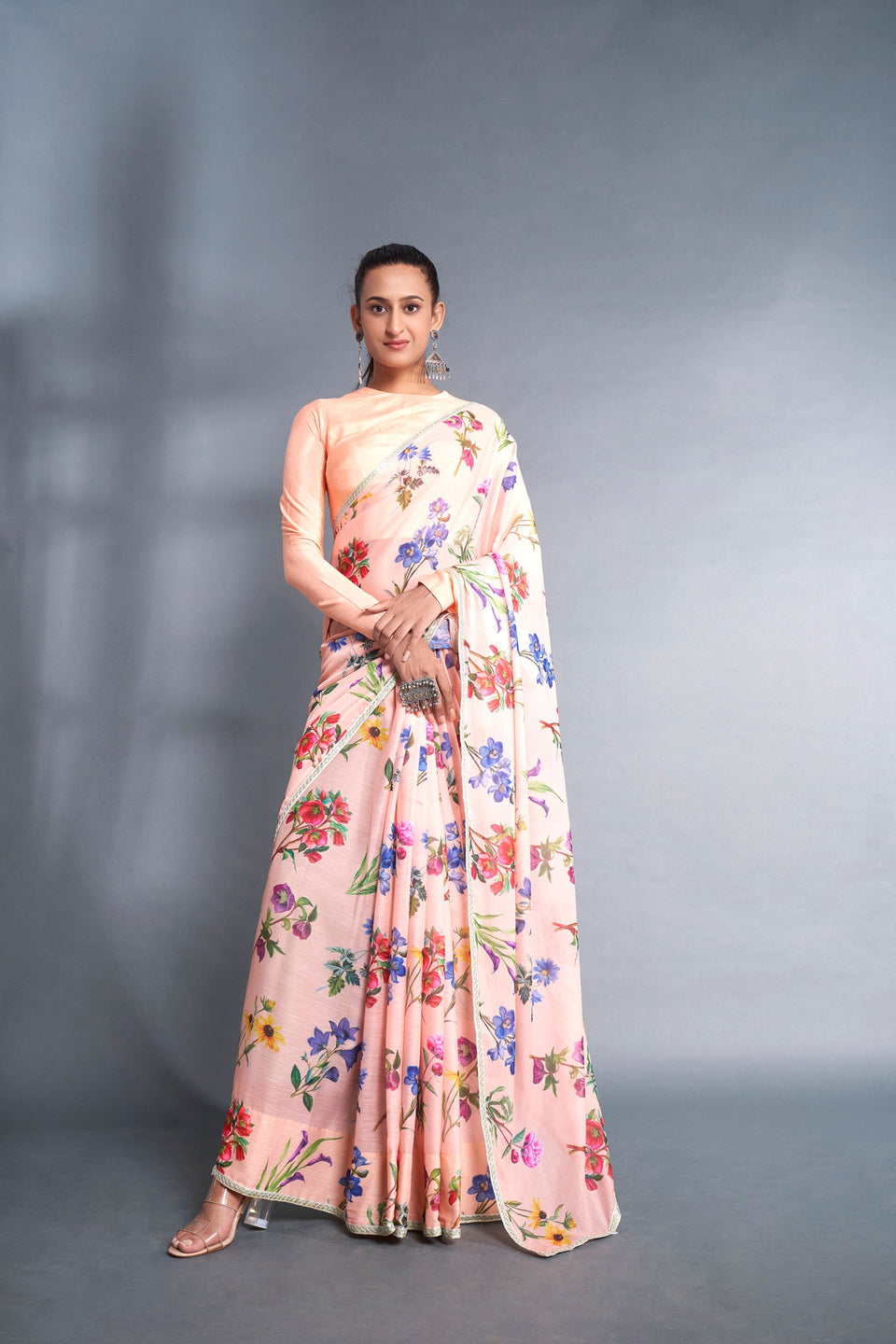 For a touch of glamour and sparkle, the Rose Cloud Chiffon Saree is a delightful choice. The saree features intricate floral prints and is embellished with sequins lace along the borders, adding a touch of opulence. The combination of the soft rose cloud color, delicate floral patterns, and shimmering sequins lace creates a mesmerizing effect. This saree is perfect for special occasions, weddings, or parties where you want to make a lasting impression.
4. Ivory Floral Printed Chiffon Saree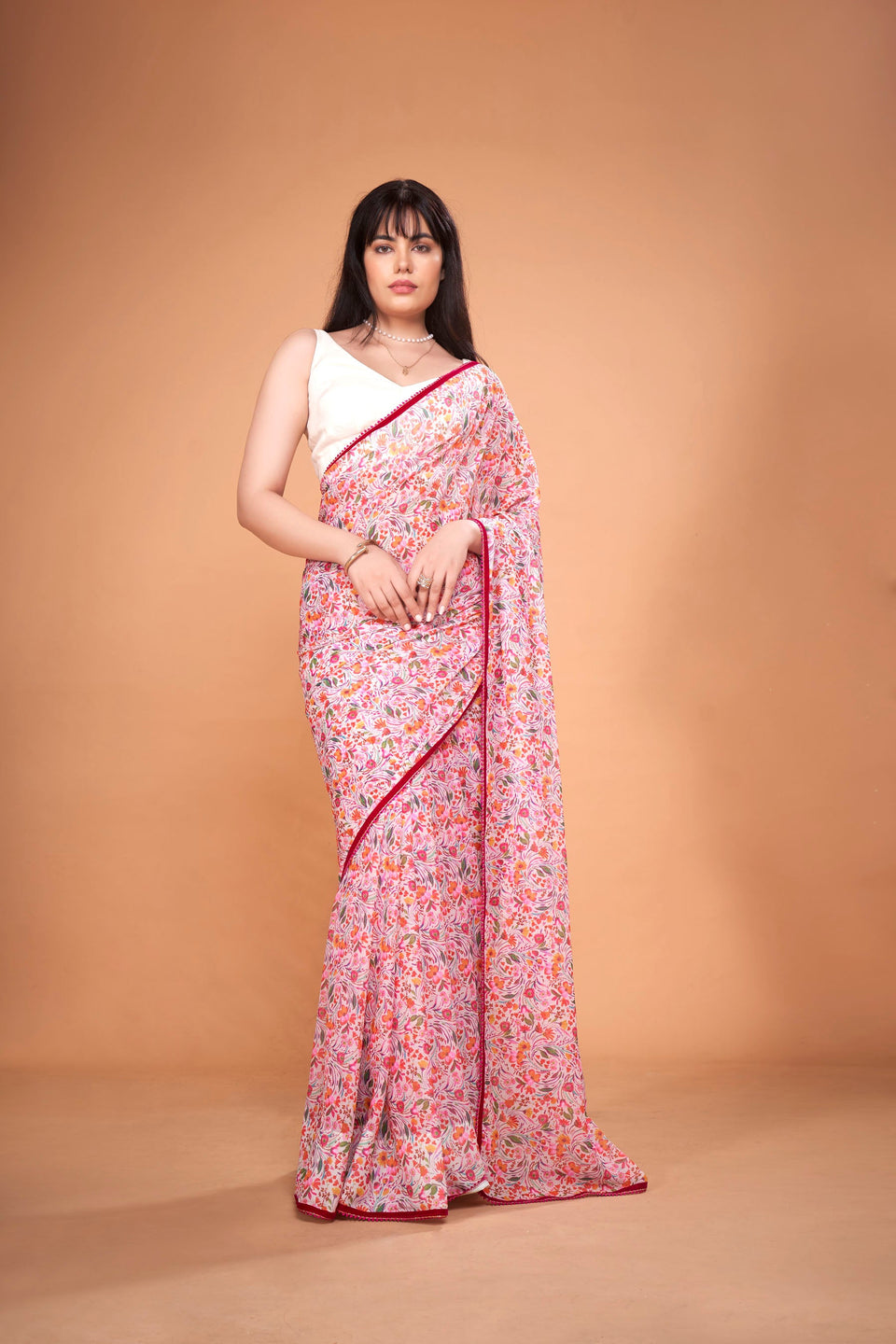 The Ivory Chiffon Saree is a timeless piece that exudes elegance and sophistication. With its floral prints and intricate detailing, it is a perfect choice for formal events. The saree features a combination of pink velvet and pink samosa lace, adding a touch of contrast and texture. The ivory hue of the saree symbolizes purity and grace, making it an excellent choice for traditional occasions and celebrations.
5. Hot Pink Floral Printed Chiffon Saree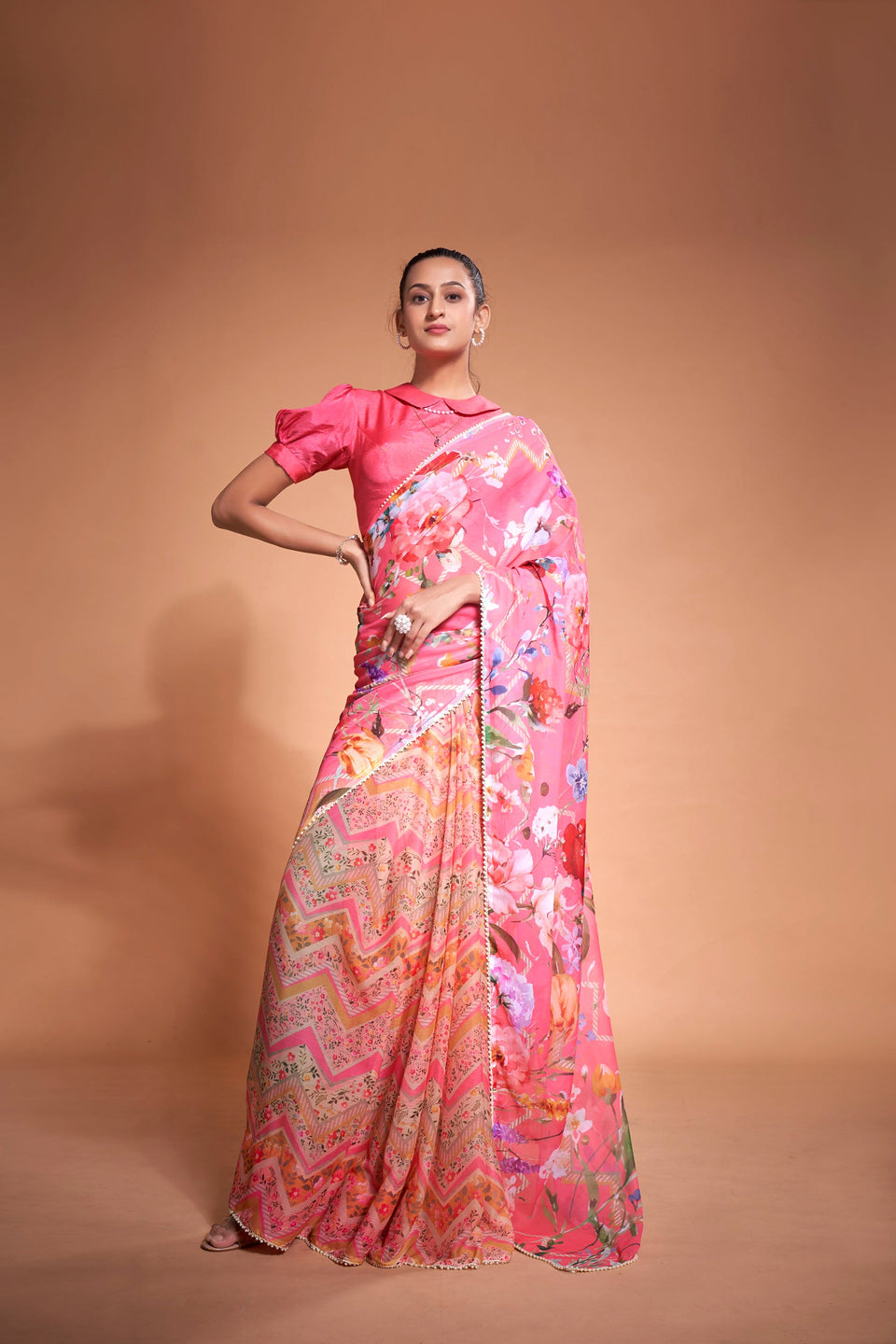 The Hot Pink Chiffon Saree is a bold and vibrant choice that is sure to make a statement. The saree features eye-catching floral prints and is adorned with pearl lace along the borders, adding a touch of elegance and femininity. The hot pink color is energetic and lively, making it ideal for festivities and joyful occasions. This saree is for the woman who loves to stand out and exude confidence.
Also, Read Exploring the Charm of 7 Printed Muslin Fabrics Designs
Conclusion
Chiffon sarees are a timeless wardrobe staple that embodies grace, elegance, and femininity. The five chiffon sarees showcased in this article represent a perfect blend of traditional and contemporary designs. From the vibrant spicy orange to the delicate rose cloud, each saree offers a unique charm that will enhance your beauty and make you feel like a true diva.
To explore and purchase these exquisite Chiffon Sarees, along with a wide range of sarees and saree fabrics, visit Vogzy. Their collection showcases the latest trends, high-quality fabrics, and exquisite craftsmanship, ensuring that you find the perfect saree for any occasion. Vogzy's commitment to providing exceptional customer service and their attention to detail make them a trusted destination for saree enthusiasts.
Embrace the elegance of Chiffon Sarees and let their timeless beauty adorn your wardrobe. Whether it's a festive celebration, a wedding, or a special event, these chiffon sarees will make you look and feel like the epitome of grace and sophistication. Invest in these exquisite pieces and embrace the allure of chiffon sarees, a true symbol of feminine charm and elegance.